Be Careful with Building Façade Materials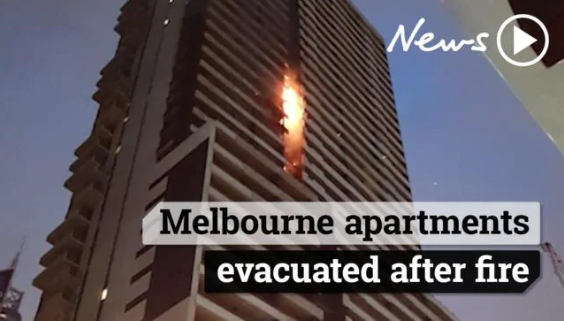 Recent apartment fire accident at 200 Spencer St, Melbourne has raised many people's concern regarding the use of combustible cladding. The fire is fueled by building's aluminium composite cladding and spread quickly from 22nd floor to 27th Floor. 
In today's building industry, there are many innovative façade materials available on the market apart from traditional Bricks, Blocks or Fiber-Cement Product. These innovative façade materials are getting more and more popular with building designers, builders, developer and even property owners due to its cost-effectiveness, ease of installation and stylish appearance. However, people haven't noticed many of these products are basically developed from rendered expanded polystyrene (EPS) and aluminium composite panels (ACP). Both materials are identified as Prescribed Combustible Products by the Victorian Building Authority (VBA).
In fact, well before this fire accident happens, VBA has noticed there are many issues raised regarding the use of combustible cladding. In part, this involves building practitioners not understanding their responsibilities when designing, approving or constructing buildings, in particular; residential apartment blocks and schools or medical centres.
In addition, the whole building industry starts getting more conservative on façade materials.  Australia's leading building product accreditation agency CertMark International had withdrawn nine certifications for cladding systems. Among these nine cladding systems, there some very commonly used material such as Dulux Exsulite and Cladex FR. This means thousands of more properties including family homes could now be caught up in the cladding crisis.
To minimise the risk and ensure the safety for future developments, it is important for property developers and investors to engage an experienced Design consultant firm for both commercial and residential projects. An experienced design consultancy can help the developers in the following areas:
Ensure the selected cladding product are fully compliant with the latest Building Code and Standard
Check CertMark and relevant Test certificate and report
Provide correct installation method advise- Cladding system need to be installed correctly to keep its integrity
Liaising with Building Surveyors to ensure all system used are signed off by relevant professionals
Keep the project up to date with the latest VBA regulations
If you have any questions regarding your development's façade system, please do not hesitate to contact us. We will help you with our latest industry knowledge and ensure the best outcome is achieved for your development.